Gen Con 2019 has come to a close, and with it comes an incredibly satisfying feeling of accomplishment for months of hard work by everyone on our Active Player team. We demoed games for thousands of people, we learned how to play new games, we played old favorites, we filmed 7 Get the Games, 4 Player Character Spotlights, and several features, we experimented with live streaming from the Con, and finally, we raised $2,277.25 for Child's Play Charity! We also randomly selected our winner of the Mega Game Basket: Congratulations to Zac Crumpler! Active Players, you can still sign up for our mailing list if you haven't already so that you can stay up-to-date on any future giveaways!
The Booth
Thank you to everyone who came by booth #2535 (I feel like that number will never leave my head now) to play some games and chat with us. We demoed Catch the Moon, Tuki, Century: A New World, Men at Work, and Tokaido. We had representatives from Funforge there to demo the next game in the Tokaido line, Namiji. We had representatives from Bandai there to demo Dragon Ball Super, the Naruto Boruto card game, and the upcoming Godzilla card game due to release this fall! Almost 200 of you got our Pin Bazaar pineapple pins (we are so happy to see how many of you love pineapples!) You donated to our Roll 4 Child's Play drive (more on that later). Seriously, that booth was full, from the moment the hall opened until the moment the hall closed every single day, and we are so happy and grateful to have met so many enthusiastic gamers and active players!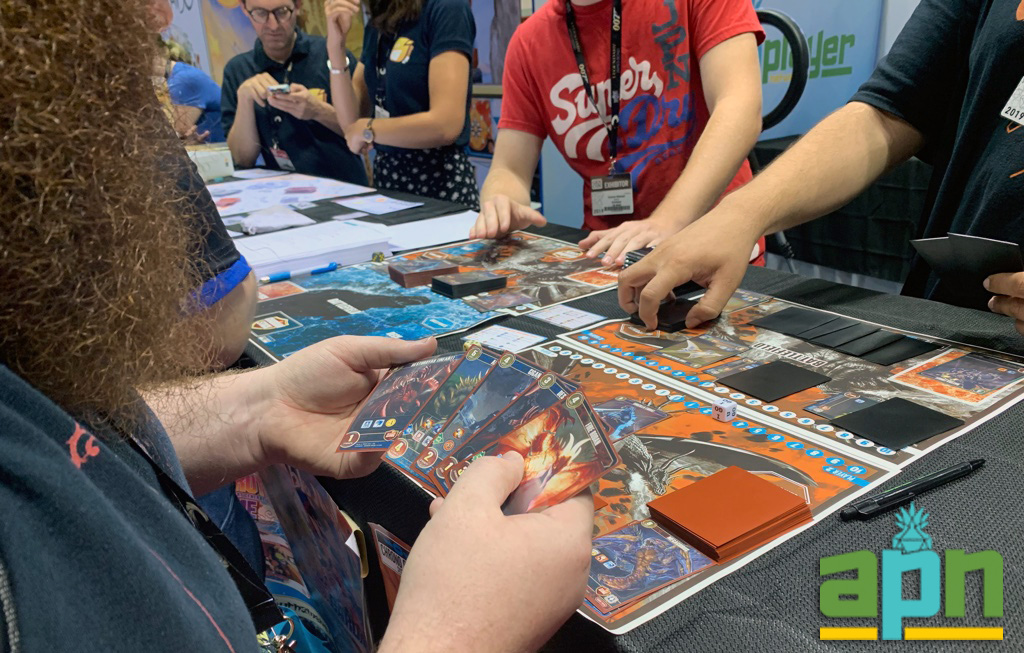 Upcoming Videos
We are so excited to bring you all over 10 new episodes of various shows filmed right at our booth. We'll have new Get the Game previews (including a sneak peek of Godzilla with game designer Ryan Miller, for those of you who couldn't demo the game in person), we'll have new Player Character Spotlight episodes (including some of the APN team!), as well as some other surprises and features as we go. Expect the first of the Get the Game episodes to start premiering this week, and as always let us know if there are any upcoming games you're interested in seeing us cover!
Roll 4 Child's Play
If you follow us on social media (and if you don't, you should), you'll remember that a lot of our posts were focused on this incredible charity drive that we did. We raised $2,277.25 for Child's Play Charity through online donations, donations at the convention, and donation matching from Mindclash Games and Metallic Dice Games. If you donated at the Con, you also got to collect our limited edition Active Player Network pineapple D6's. Two lucky people who took advantage of our #roll4childsplay giveaway won a set of dice and a dice tray from Metallic Dice Games as well! If you got some of our pineapple dice show us some pictures! We're also hoping to do a future giveaway with these dice for those who could not/cannot attend a convention so if that sounds like you, let us know! Do you want a chance to win these D6's? Should we continue the line and offer a D20 next? We love ideas and suggestions.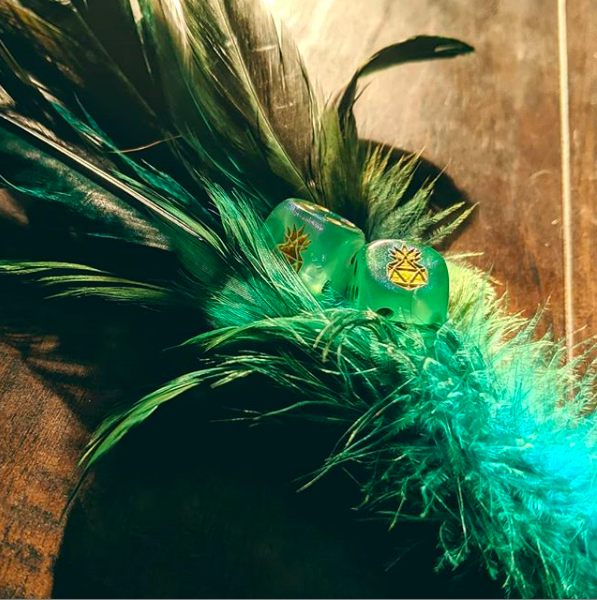 Did you attend Gen Con 2019? Did you stop by the booth at all? Let us know all of your awesome Con stories! Next stop: PAX Unplugged!